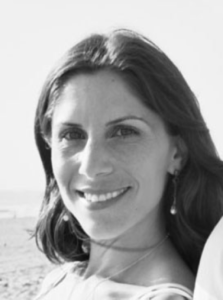 (compiled by Skye Lobell)
"Being paid to laugh and make others laugh is a pretty fine way to spend the day!" – Aliki Theofilopoulos
Aliki Theofilopoulos Grafft is an animator, character designer, storyboard artist, writer, voice actress and director of Greek descent. Aliki grew up in La Jolla, San Diego, which she describes as a beautiful place to grow up in, but, due to her background and appearance as well as her strong interest in animation, she felt like an outcast. Aliki always loved all kinds of animation, and she loved drawing as well. Her grandfather also loved cartoons and encouraged her artistic endeavours; he would draw with Aliki and teach her whatever he knew. Although Aliki was interested in working in animation since she was young, she didn't know how to pursue her goal, so she decided to major in Fine Arts at the University of Southern California. USC did not have an animation program at the time, but they had an animation class which Aliki attended. During her college years, Aliki interned at Spumco and Hanna-Barbera as production assistant.
After graduation, Aliki signed up for classes at The Animation Guild and various schools around Los Angeles. After an open-house night at Rowland Heights, where studio recruiters were reviewing portfolios, she was invited to apply at Walt Disney Feature Animation as clean-up animator, but wasn't hired. She was instead asked if she would take an "in-betweening test" for the Disney Florida lot. She reworked her portfolio and asked to be reconsidered for the Burbank studio. The day following her submission, she received a call informing her that she was one of four people chosen for the Disney Feature Animation Training Program. After a three-month training internship under Brian Ferguson, she was hired as his assistant animator on the film Hercules (1997). During the late 1990s and early 2000s, she mentored with John Ripa, Glen Keane and John Ripa on Tarzan (1999), Fantasia 2000 (1999) and Treasure Planet (2002), among others. Aliki participated in the monthly drawing lessons by the Walt Stanchfield, for whom she harbors much affectionate admiration. Aliki considers him to be among her greatest artistic influences.
When Disney decided in the early 2000s not to produce hand-drawn features anymore, Aliki took classes in computer animation, but found she did not enjoy it, so she moved on to television animation. A friend at Nickelodeon suggested she submit character designs to the studio, and she was hired as a storyboard revisionist on Chalkzone. Following Chalkzone, she worked as character designer on Catscratch. The creator wasn't liking her work, which made Aliki feel insecure and full of self-doubt. Fred Seibert, an executive whom she had met while still working on Chalkzone, encouraged her to look for another job, since she was obviously not happy. Aliki subsequently moved on to Warner Brothers' Johnny Test as storyboard assistant. She learned from the experience that not everyone would like her or her work and not to let that define her.
She moved back to Nickelodeon when Fred Seibert approached her to create shorts for Random! Cartoons as pilots for a potential series. The first was "Yaki and Yumi" and the second "Girls on the GO!", with the latter being inspired by Aliki's own experiences growing up, but neither was picked up. Although Aliki was disappointed, she considers the creation of these shorts among her greatest professional experiences. It was during this time that Aliki realized how much she enjoyed storytelling and being a part of all aspects of production.
Aliki's agent at The Gotham Group had heard of a new show being produced by Disney, Phineas and Ferb, in 2006. She submitted Aliki's storyboards to Disney, and she was hired, first on a trial basis and very shortly after as full-time crew member. She thus spent seven years as a writer, storyboard artist and songwriter on Phineas and Ferb. Her only experiences as a writer and storyboard artist at that time came from working on her pilots. Among the songs she co-wrote for the series, "Come Home Perry", which she says was her favorite song she helped to write for the show, was nominated for an Emmy award. She was also the voice of the character Mandy. Aliki started doing voice work while still working for Disney's feature animation studio when she did "scratch" dialogue for Home on the Range (2004).
She is the director and executive-producer of the short-form series Descendants: Wicked World, a spin-off of Disney's 2015 TV movie Descendants. She also directed the Cartoon Hangover short "Doctor Lollipop" and wrote and storyboarded the Mickey Short "Eau de Minnie". Her ultimate professional goal is to be the creator of a successful animated series; Aliki currently has a new show project based on an own idea in development at Disney.
Aliki was at one point married to Baron Grafft and now lives with her two children, Niko and Ruby, in Los Angeles.
References:
Ryan W. Mead, An Interview with…Phineas and Ferb's Aliki T. Grafft: http://mostlysugar.blogspot.de/2011/09/interview-withphineas-and-ferbs-aliki-t.html
Tunde Vollenbroek, 'I'm Not Going to Be Left Behind': An Interview with 'Descendants: Wicked World' Director Aliki Theofilopoulos : http://www.cartoonbrew.com/interviews/im-not-going-to-be-left-behind-an-interview-with-descendants-wicked-world-director-aliki-theofilopoulos-120668.html
Disney Animator Aliki Theofilopoulos Grafft on Silliness, Creativity, and Fun in Both Work and Motherhood : http://mommikin.com/project-view/disney-animator-aliki-grafft-creativity-motherhood/
Interview With Animation Story Artist Aliki Theofilopoulos Grafft :Paper Wings Show #31 : https://www.youtube.com/watch?v=LgB2Escc9qc
Aliki Theofilopoulos: http://www.animationinsider.com/2015/11/aliki-theofilopoulos-grafft/
External Links:
Official Website: http://alikigreeky.com/
Carbonmade Portfolio: https://aliki.carbonmade.com/
Tumblr: http://alikigreeky.tumblr.com/
Instagram: https://www.instagram.com/alikigreeky/
Facebook: https://www.facebook.com/aliki.grafft
Twitter: https://twitter.com/alikigreeky
Youtube Channel: https://www.youtube.com/channel/UC0ABDBHcnE7JV1GkrKfaXIg
Imdb: http://www.imdb.com/name/nm1507229/
Greeks Gone West – Aliki Theofilopoulos : http://www.dailymotion.com/video/x386wkn
Doctor Lollipop Director Exclusive Interview – Toon Buzz on Channel Frederator (Ep. 15) : https://www.youtube.com/watch?v=uC04zzQNnSg
Johnnie Talk: Aliki Theofilopoulos : https://www.youtube.com/watch?v=hBsxAiz35e8