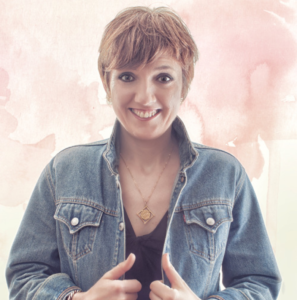 (compiled by Skye Lobell)
Cinzia Angelini is an Italian freelance animator and story artist living in Los Angeles with her husband and two children.
Angelini was born and raised in Milan, Italy, but spent weekends and summers in Trento, her parents' hometown. Angelini always liked drawing and animation growing up. After finishing  high school, she knew she wanted to work in the Arts, initially choosing to go into advertising. That summer, a friend of her mother's was directing evening classes at an Art school and suggested Angelini join the animation section. Thus Angelini attended to two different schools simultaneously, studying graphic design by day and animation in the evenings. She quickly realized that she wanted to be animator but still decided to finish both schools.
After graduation, Angelini worked at a local animation studio which produced commercials and shorts before moving on to working as an inbetweener at Amblimation and a Munich studio. When she came to the Annecy film festival, she was discovered by DreamWorks Animation and hired as an animator on The Prince of Egypt (1998). Because of her desire to learn new things, Angelini took a two-month training on Maya. She was able to apply her newly-acquired skills on Spirit (2002) and later Sinbad (2003). Angelini realized she wanted to go full CG in her career and moved on to Sony as a special effects animator on Spider-Man 2 (2004).
While later working at Disney, Angelini became interested in story. She was let go after production on Bolt (2008) ended, and decided to go on maternity leave as she was pregnant with her second child. She taught herself storyboarding from books and the Internet. She later worked at Duncon Studios on Dreamworks DVD specials and the Universal Theme Park ride for Despicable Me, "Minions Mayhem".
At the moment, Angelini is directing the independent short film Mila, which is inspired by stories her mother told her about growing up during WW2. She cites Italian animator Bruno Bozzetto and the old Disney features as influences on her work.
References:
Cinzia Angelini: http://cinziaangelini.com/bio/
Bijan Tehrani, Cinzia Angelini, talks about her films: http://cinemawithoutborders.com/conversations/3165-cinzia-angelini-american-italian-animator.html
Larry Vasquez, Interview with Mila creator – Cinzia Angelini: http://www.ianimate.net/podcasts/item/interview-with-mila-creator-cinzia-angelini.html
Further Reading:
Victor Fuste, "Mila" – Interview with Director Cinzia Angelini: http://industry.zerply.com/interview-with-cinzia-angelini/
External Links:
Official Website: http://cinziaangelini.com/
Zerply Profile: https://zerply.com/cangelin#
LinkedIn: https://www.linkedin.com/in/cinzia-angelini-aab6401
Twitter: https://twitter.com/cinziaangelini
Facebook: https://www.facebook.com/cinzia.angelini.7
Vimeo: https://vimeo.com/user5029760
IMDb: http://www.imdb.com/name/nm2158642/
Mila Website: http://milafilm.com/
Mila Facebook Page: https://www.facebook.com/officialmilafilm/