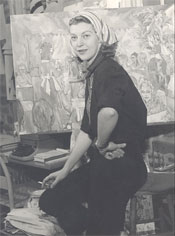 Elizabeth Case Zwicker (1930-2006)
compiled by Skye Lobell
"I could never illustrate my poetry or paint anything I was writing about. They're two distinct entities. I always drew; I always wrote."– Elizabeth Case on her art and poetry
Elizabeth Case Zwicker, born in 1930, was the daughter of Nelson Case, a famous radio announcer in the 1940s and 1950s.
She was a sickly child, spending most of her time in bed until she was eight:
"I didn't go to school for a couple of years, ear pain, mastoiditis. I spent a lot of time in my head making images on the wall, and in addition I was isolated, quarantined. Nobody came into my room. My father hung a doll on my door and danced the doll on his way out to the Rainbow Room at the Waldorf when he was announcing. That's when we lived on the East Coast, and had a family life."
These years spent by herself shaped her imagination:
"I always saw things on the bare walls. When I had a high fever I was much too weak to hold a book, or a doll. So I would follow the stucco patterns on the wall, literally tracing them with my finger on the sheet. I called them "islands." As I traced them they would move back and forth it was negative space. I would see something I had read about, like a foreign country and would wonder if it was shaped like that. I exercised my fingers while envisioning things and I think this manual activity was that which made me draw, and imagine things."
She attended the Art Students League with the sculptor William Zorach. Elizabeth believed her greatest gift lay in is sculpturing: "All that movement with my hands those years when I was sick, studying those images. I have a certain dexterity." But she was disappointed in her work because she wanted to create something "monumental", but everything only turned out "cute".
As a poet, she was involved with the Beat movement, particularly in San Fransisco.
"In the Los Angeles area, it was called The Beat Generation. In San Francisco, they were called Beatniks. Different terminology. The Los Angeles scene was dark and shadowy and more moody. People wore heavy eye makeup. Even though I was only 28 years old, I was looked at as an "older" woman in this young people's arena. So they gave me the tag: Mother of the Beat Generation. … . I didn't proclaim myself this. I thought it was odd, but I wasn't uncomfortable with it. I wore my capes and my sandals and my dark eye makeup and appeared where they told me to appear.
Lawrence Ferlinghetti literally threw me out of his City Lights bookstore. He wasn't going to have any blankety-blank women or women's poetry, drivel. But in 1958 I was the only one in San Francisco doing poetry readings. I was reading at a nightclub, at a time when the nightclubs were folding."
In 1956, she was hired for Disney's 1959 feature Sleeping Beauty as an inbetweener and breakdown artist, mainly working on the birds, but also other characters such as Prince Phillip's horse Samson and the Jester. Her colleagues nicknamed her "Big Liz" because she was so tall.
About her experience working for the Walt Disney Animation Studio, she wrote:
"In 1956 I had just divorced and had to go to work. I was living in Glendora, California. One Sunday I opened the Los Angeles Times, to the help wanted. It was divided back then into men and women. I was reading men's jobs and women's jobs. Nobody ever said I couldn't. I never had any boundaries. I did a lot of things that other people didn't because I didn't know better.
I found an ad that said "Fine artist wanted" for Disney studios. I called and made an appointment to show my portfolio. I didn't even know what a portfolio was and had to go buy one. I put in a lot of stuff from art school and also some "cute" drawings. I added what I consider now as very amateur work, as well as some copies of work that was in the college museum.
I took it to Burbank and in the interview they asked me, "Do you have another source of income? We don't pay very much." It was $32 or $35 a week, and I assured them that I had child support. Everybody was very honest. They telegraphed me over the weekend that I was hired.
I found out later that it was an experiment. They were looking for fine artists and they still do. They want people who can draw; not people who cartoon. You have to know how to interpret human movement. If you are drawing a teapot, that nose has to twitch. The ears have to go back and forth like flaps.
I did birds in "Sleeping Beauty." I studied how birds fly in the research library. I developed a bird consciousness. Then I did the jester with striped sleeves, the stripes are very difficult. The day the movie was finished, we were all laid off. I was the last one laid off (my last name at that time started with a "Z"). They offered me work in layout. I was crushed. I couldn't imagine life without animation. I didn't want any other work there, even for more money."
Elizabeth's time at Disney's was her only animation job; after that, she went on to painting and illustration. She passed away in April of 2006.
References:
Elizabeth Case, A Life in Perspective (published by Dottie Moore): http://ladybuglive.com/gallery2.html
Elizabeth Case talks about working on Disney's Sleeping Beauty: https://www.youtube.com/watch?v=ufIpn7w_Wtw&feature=share
Steve Hulett, John Sparey's "Types I have known": Bea and Liz: John Sparey's "Types I have known": Bea and Liz
Sonya Shannon, 10 Noteworthy Women Animators: http://www.artwarestudios.com/image-culture/10-noteworthy-women-animators/
Floyd Norman, Toon Tuesday: The curious case of Elizabeth Case: http://jimhillmedia.com/columnists1/b/floyd_norman/archive/2008/05/20/toon-tuesday-the-curious-case-of-elizabeth-case.aspx
Further Reading:
Elizabeth Case meets Walt Disney: https://www.youtube.com/watch?v=PHmbMorZkDw&feature=share
Nelson Case: http://www.michenermuseum.org/bucksartists/artist.php?artist=46
Floyd Norman, Disney Artist, Elizabeth Case: http://floydnormancom.squarespace.com/blog/2014/7/28/disney-artist-elizabeth-case
External Links:
Facebook Page: https://www.facebook.com/Elizabeth-Case-65936139631/?fref=nf