From: https://www.pearlyoyster.com/about-me/emmas-biography-2/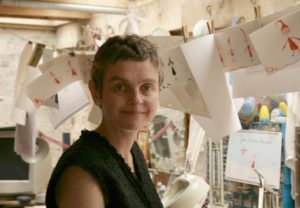 Emma studied Graphic Design at the London College of Printing and The Royal College of Art, which is where she began to experiment with animation. Ilkla Moor baht at, her first film was shown in the New Contemporaries Exhibition at the ICA in 1982.
Her second film, Madame Potatoe, became a cult of the early 80's and as well as being featured in the national press it was shown at the Tate Gallery as part of an animation show in 1983. A still from the film now resides in the Victorian and Albert Museum as an example of the art of Potato Print Animation. The film was first screened on Channel Four in the Early 90's.
Her talents have been widely recognised and in 1983 she animated 1984 (Music for Modern Americans), produced by Eduardo Paolozzi and the Royal College of Art.
In 1986 she made Springfield, a witty and offbeat, probing of loss and alienation featuring a central character who is half woman, half vacuum cleaner. This film was screened on Channel Four and is available from the British Film Institute; it was also featured in a Channel Four documentary (part of the Formations Series), along side Emma.
She also directed and animated various award winning pop videos in the eighties including Shame by the Eurythmics watch on MTV (director of animation) and Close to the Edit by The Art of Noise, watch on You Tube (director of sequence).
In 1989 she set up Pearly Oyster Productions with fellow animator Ged Haney, the pair co-directing the curious puppet animation children's film The Drummer.
Her film The Queen's Monastery 1998, was the first animated film to be funded by the National Lottery. It received many prizes including a Silver Hugo at Chicago, second prize at the Dresden Festival, best professional film at Bradford International Film Festival and special jury prize at Zagreb. The film was successfully distributed in cinemas throughout the UK and in over fifty cinemas in North America.
She designed the animation sequences for a Channel Four documentary The Great British Black invasion.
Her first children's book Miss Louise Goes to Paris illustrated by Emma Calder written by Carolyn Hink was published by Quercus Books 2008.
In 2005 to present she made a series of handmade sticker books which have sold in various outlets in London, including Tate Modern Shop and Other Criteria. As a continuation of this work she created Emma Calder's Moody Days Sticker Book for Thames and Hudson, which was published 2010.
Paper Angels a children's activity and story book was published 2010 by Bloomsbury.
Emma is currently developing and writing Gum Shoe Story an animated/live action documentary about chewing gum and  making Random Person 52 part viral internet animation series.
She recently completed two animated documentaries. Boudica A Norfolk Story an animated commission from Norwich Castle Museum and Everyone Is Waiting For Something To Happen a film exclusively based on a chosen person's social media data. Part of a EPSRC UK research project.
Her latest film Roger Ballen's Theatre of Apparitions commissioned by Roger Ballen which she co-directed with Ged Haney had it's World Premiere at Edinburgh International Film Festival (EIFF) 2016. London Premiere, The BFI London Film Festival 2016. Now doing the festival circuit.
Save
Save