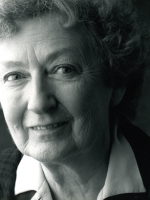 Eunice Macaulay, animator, producer (born in England 1923). Eunice Macauley began her animation career when a Christmas card she created for fun landed her a job as a tracer at Gaumont British Animation in 1948. In her career, she worked on 25 short films and received numerous awards, including an Oscar. In the field of animation, she worked as a director, producer, rendering supervisor, writer, background artist, colouring supervisor, trace and paint supervisor and animator. Her technique involves drawing and hand-colouring.
After completing high school in England, Macauley worked as a trainee analytical chemist at Pilkington Brothers and served as a radio mechanic with the Royal Navy during World War II. At the beginning of the 1960s, Eunice Macaulay immigrated to the US. While working with her filmmaker husband, she freelanced there and in Canada, notably for the NATIONAL FILM BOARD OF CANADA (NFB). In 1969 she joined POTTERTON Productions and in 1973 she was hired fulltime by the NFB.
In 1978, Macauley and John Weldon co-directed Special Delivery, one of the funniest animated shorts ever produced by the NFB; the film won the 1979 Oscar for best animated short. In 1983, as producer, she initiated Just for Kids, a series of film adaptations of children's stories by Canadian writers. Her collaborative credits also include that of writer on Ishu PATEL's Paradise (nominated for an Oscar in 1985) and writer/producer on Robert Doucet's Dreams of a Land (1987), a look at Canada through the eyes of Samuel de Champlain. She produced the Oscar-nominated George and Rosemary (1987; made for a series on seniors that Macaulay oversaw called 65 Plus), animated and directed by ALISON SNOWDEN AND DAVID FINE.
Eunice Macaulay retired from the NFB in 1990.
http://www.thecanadianencyclopedia.ca/en/article/eunice-macaulay/

Special Delivery, Eunice Macaulay & John Weldon, National Film Board of Canada
Save