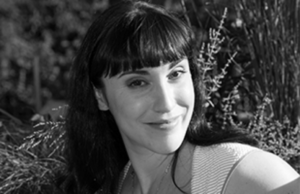 Joanna Davidovich   
compiled by Skye Lobell
"I wanted to make a fun cartoon, like the cartoons that I grew up with that I loved so much, that I always wanted to make for myself." – Joanna Davidovich on Monkey Rag
Joanna Davidovich was born on the 15th of September, 1983, in Orange Park, a suburb of Jacksonville, Florida. Her family, which is of Ukranian descent, came from a tradition of gymnastics, but Joanna's interests lay in drawing and watching cartoons. Her favorite cartoon growing up was Animaniacs; it was this series that made her realize that people can make a living doing animation. When the show was cancelled, she took a petition for a revival to her high school to send to the CEO at Warner Brothers. This was met with more ridicule than interest by her peers. Nevertheless, she kept writing to WB; one time, Tom Ruegger, a writer and producer for Animaniacs, wrote back to her, expressing his appreciation of how much she loved the show.
In 2005, she graduated from the Savannah College of Art and Design with a BFA in Animation. She has since worked as a freelance character designer, storyboard artist and animator for commercials, promos, and television shows.
Her most well-known work might be Monkey Rag (2013), a short animated to the song of the same name by the Asylum Street Spankers, who let her use the music free of charge. Monkey Rag, on which she worked on-and-off again for about four years, was well-received and enjoyed a successful run on the festival circuit. Its greatest inspiration was Disney's All the Cats Join In (1947). Joanna cites classic Warner Bros. shorts, Disney features, Chuck Jones, Tex Avery and Friz Freleng as creative influences, as well as shows like Tiny Toons, Animaniacs, and Freakazoid. Other influences include Nick At Nite and I Love Lucy. She is a fan of Big Band and Swing Music, and she also plays the ukulele. Joanna's definition of an animated cartoon would be "fun".
Joanna currently lives in Atlanta, Georgia, with her husband Nate Foster, a VFX artist, and their daughter, Talia, who was born in March of 2015.
References:
TAW Episode 4: Joanna Davidovich interview! Part 1:
http://www.theanimationworkout.com/stream/taw-episode-4-joanna-davidovich-interview-part-1/
TAW Episode 5: Joanna Davidovich interview! Part 2: http://www.theanimationworkout.com/stream/taw-episode-5-joanna-davidovich-interview-part-2/
An Interview with Joanna Davidovich – By Philip Smolen: http://www.roguecinema.com/an-interview-with-joanna-davidovich-by-philip-smolen.html
Daily (?) Crapbook: I'm a Mom : http://jothezette.blogspot.de/2015/03/daily-crapbook-i-mom.html
Baby Energy: http://jothezette.blogspot.de/2015/07/baby-energy.html
Joanna Davidovich: http://www.imdb.com/name/nm2272151/?ref_=nmbio_bio_nm
Animation Work:
Monkey Rag: https://www.youtube.com/watch?v=HqJQAgBPBSA
Monkey Rag Pencil Test: https://www.youtube.com/watch?v=j6lOJgsJBcg
Monkey Rag Animatic: https://www.youtube.com/watch?v=gMEON2mflTM
The Making of Monkey Rag: https://www.youtube.com/watch?v=aBpghnnsQec
Monkey Rag Website: http://monkeyrag.cupojo.net/
Claire and the Keys Character Concepts: http://jothezette.blogspot.de/2015/09/claire-and-keys-and-dragoncon.html
2014 Joanna Davidovich Character Animation Reel: https://www.youtube.com/watch?v=EZgGHNrYJ9A
Youtube Channel: https://www.youtube.com/channel/UCMEixvInUOkzc_5c55sD4Jg
Further Reading:
Website: http://cupojo.net/
Blog: http://jothezette.blogspot.de/
Tumblr: http://jothezette.tumblr.com/
Twitter: https://twitter.com/jothezette
Store: http://www.redbubble.com/people/jothezette
Dragoncon Special: Joanna Davidovich and Nate Foster: http://atlfilmchat.libsyn.com/episode-15-dragoncon-special-part-4-joanna-davidovich-and-nate-foster
Mix-n-Match Interview: Joanna Davidovich, Director of "Monkey Rag": http://atlantafilmfestival.com/news/2014/4/1/mix-n-match-interview-joanna-davidovich-director-of-monkey-rag