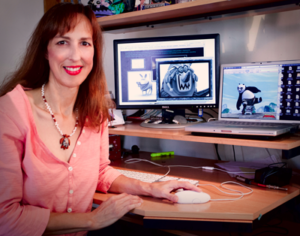 (compiled by Skye Lobell)
Kathy Zielinski is a 2D and 3D designer and animator from Southern California.
Zielinski grew up loving Disney movies and would draw Disney characters all the time. She loved drawing and knew she wanted to work in the Arts. During her senior year in high school, when a teacher offered an animation class, she realized that it could be a possible career path. It was this teacher who suggested Zielinski apply to CalArts. She sent her portfolio to CalArts, but did not know what to put in the life drawing section, since she had never trained at figure drawing and didn't know what was meant. Thus her sketches were a little too rushed and crude, so her portfolio was returned with the suggestion that she should try again, which she did. She spent four weeks reworking her portfolio. She was accepted on her second try.
She started at CalArts in 1979 and stayed for two years, where she studied under Ken O'Connor, T. Hee and Jack Hannah. Her student short film, Guess Who's For Dinner?, about a spinach monster who wants to eat a little kid, won the Student Academy Award and Focus Film Award in 1982. After working for a brief time at Filmation when she was 19 years old, she got hired by Disney Animation in 1981.
Her first animation for Disney consisted of Pixie dust effects animation for Epcot. She then worked in clean-up and animation for Mickey's Christmas Carol (1983) and The Black Cauldron (1985). On The Great Mouse Detective (1986), Zielinski was promoted to animator on the comedic villain-sidekick Fidget.
Zielinski did a variety of character design work on Oliver and Company (1988) before moving on to The Little Mermaid (1989) to animate Ursula. During production of The Rescuers Down Under (1990), she animated Frankie and Joanna, a comedic and a villainous reptilian character, respectively. During this time, she owned a male lizard named Zsa Zsa with her roommate, who was also working on the film.
On Beauty and the Beast (1991), she worked briefly on the character LeFou and was supposed to be his supervisor, but she left Disney for a year to work on her independent short film. At the same time, she worked as supervisor on Hexus for Fern Gully (1992).
Zielinski came back to Disney to work on Aladdin (1992), where she animated the villain Jaffar as an old beggar, the evil genie and a snake. At that time, she was pregnant with her daughter Jennifer. After a short break, Zielinski worked on an early iteration of Pocahontas (1995) before her characters got cut from the story.
Zielinski was approached to be the supervising animator for the character Frollo from Hunchback of Notre Dame Hunchback, with an animation crew being split between Paris and California, after she had done some character designs for him. Zielinski was interested in working on Hunchback because of its darker tone.
After Hunchback, she took a three month break and was asked by Jeffrey Katzenberg asked if she wanted to work for DreamWorks Animation. At DreamWorks, she was involved with all the 2D films, and worked as supervising animator on Tzekel-Kan from The Road to El Dorado (2000).
After Sinbad (2003), Zielinski took a 3 month training program on Maya. She has since worked on major DreamWorks properties such as Kung Fu Panda (2008), How to Train Your Dragon (2010) and Kung Fu Panda 2 (2011). Although she is now more comfortable working with the computer than she was at the beginning, Zielinski feels more emotionally involved with her drawing than with computer animation.
After briefly returning to Disney to work on Frozen (2013), Zielinski was hired by Encore, where she has worked on the TV shows Supergirl, The Flash, and Legends of Tomorrow. She also teaches at Animation Mentor.
Zielinski's single most favorite piece of animation is the "Night on Bald Mountain" sequence from Fantasia (1940). Her favorite animated film is The Iron Giant (1999), which she first saw on Brad Bird's invitation. Zielinski has been working on her independent short film Hide and Seek since her CalArts days, first developing as a stop-motion project and now being continued in CG.
References:
Kathy Zielinski: https://animationguild.org/oral_history/kathy-zielinski/
Designing an Animated Short Film with Kathy Zielinski: https://vimeo.com/54303098
Focus Film Award Award – 1982 Interview with Kathy and Director John Badham: https://vimeo.com/76484011
Kathy Zielinski: http://www.virtualanimators.com/index.php/instructor-kathy-zielinski
Further Reading:
Grayson Ponti, 49. Kathy Zielinski: https://50mostinfluentialdisneyanimators.wordpress.com/2011/05/07/49-kathy-zielinski/
External Links:
Blog: http://kathyzielinski.blogspot.de/
Vimeo: https://vimeo.com/kathyzielinski
IMDb: http://www.imdb.com/name/nm0956199/
LinkedIn: https://www.linkedin.com/in/kathy-zielinski-a52a678