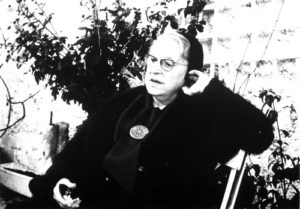 From Wikipedia:
Charlotte "Lotte" Reiniger (2 June 1899 – 19 June 1981) was a German film director and the foremost pioneer of silhouette animation. Reiniger made more than 40 films over her career, all using her invention. Her best known films are The Adventures of Prince Achmed (1926) – the oldest surviving feature-length animated film, preceding Walt Disney's feature-length Snow White and the Seven Dwarfs (1937) by over ten years – and Papageno (1935), featuring music by Mozart. Reiniger is also noted for devising a predecessor to the first multiplane camera.
From BFI:
Inspired by fables or music, most of her films are notable for their humour, delicacy and fantasy.
Here is Lotte's story in her own words:
"When I was at school, all the children used to do paper cut-outs, silhouettes, and I loved it. Later I got the theatre bug and put on shows. When other children were out playing, I was 'animating' my silhouettes. I'd make them perform Snow White, for example. When I was older, my parents were so pleased to see me sitting at home cutting out silhouettes as it was a peaceful hobby and it didn't take up much room. I built my own shadow puppet theatre.
"When cinema appeared, I was bowled over. What I remember being most excited by were the fantasy films of George Méliès. In 1915, I went to a lecture given by a man named Paul Wegener, who had made [the film] The Golem. He was talking about the technical side, and special effects, which I found fascinating. I was 15 years old. I said to myself: this is a man I must meet. I enrolled at the Reinhardt Theatre School, where he was very kind to me and ended up giving me small parts in his films.
"In 1918, Wegener introduced me to a group of young people who had just started a studio for scientific and experimental films, and suggested they take me on. My first film at the studio was The Ornament with a Love-sick Heart, made with silhouettes. It went down very well. Only five minutes long, it was shown in cinemas."