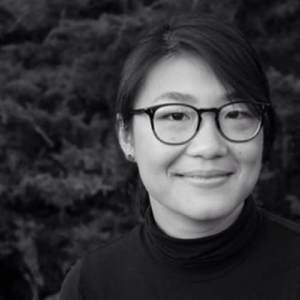 Melody Wang
After studying mechanical engineering at the University of Toronto, Melody Wang earned her Bachelor of Arts in Animation at Sheridan College in 2015. She currently works as a storyboard revisionist at House of Cool Inc.
(Reference: https://ca.linkedin.com/in/mellowatt?trk=pub-pbmap)
Daniel Caylor conducted an interview with Melody for OnAnimation which gives insight into her background as well as the making of her student short film, The Casebook of Nips and Porkington:
"Daniel: Can you tell us a bit about yourself?
My mother was a designer and art teacher and both her parents were botanical illustrators in China so we were exposed to drawing at a very young age. I was born in Canada and my favorite art thing to do was to make title pages and illustrations for school projects which I usually paired with tasteless bubble letters and comics sans.
Daniel: When did you first realize you wanted to make animated films?
When I watched all the extra features on the Monsters Inc DVD.
Daniel: What has your experience at Sheridan been like?
I had a very rich learning experience and knew after the first week of classes that I was doing the right thing with the right bunch of people.
Daniel: Can you talk about your inspirations for The Casebook of Nips and Porkington? What are some films/artists that influenced you during the production of your film?
This project was a reflection of a lot of my favorite things: Calvin and Hobbes, Tintin, Harry Potter, Sherlock Holmes, Beatrix Potter, Agatha Christie, Disney movies like The Great Mouse Detective and 101 Dalmatians, and a very long list of BBC TV shows just to name a few.
Daniel: How long did you spend making this film from start to finish?
Roughly 8 months in total – 4 for pre-production, from conception to animatic, and 4 for production and promotional material.
Daniel: How long did it take for you to find the characters of Nips and Porkington?
I started out with human characters and the idea became much more appealing when I turned them into a cat and pig. Aside from liking cats and pigs, I thought these two animals provided a nice contrast in shape and size. They went through several rounds of occupational changes (barrister, scamp, magician etc.etc.) before landing on officers of the law.
Daniel: What inspired the world being, essentially, a newspaper?
I went to a used bookstore a few years ago and for $15 found this wonderful book full of spreads from the Sunday editions of the New York World during the 1890s to early 1900s. There was also a 1902 Sears catalog where you could mail-order rifles, pianos, and coat buttons. These pages were put together over a hundred years ago but you could feel the care and attention the artists paid to design and balance, and also sense what the articles and graphics meant to readers and how they might have responded.
Daniel: What is the most important thing you learned from your previous films at Sheridan that you were able to put in your thesis film?
I think seeing the film as a whole, understanding that the most important thing to an audience is the overall experience. For execution, I thought developing strong aesthetics in general and knowing your tools made for a much smoother production.
Daniel: What was the most challenging part about bringing this film across the finish line?
Finally doing all the little tasks you put off, like designing legible titles and filling in patches in the backgrounds. There wasn't really a finish line like I expected, the work just kind of trickled to an end.
Daniel: What tools did you use to create your film? Can you talk about how they made production easier compared to working in alternative/traditional way?
I made the film on a Cintiq Companion with a small laptop on the side for reference. This system was very portable and I admit spending a good deal of time working in bed. For software I used Storyboard Pro for boarding, Photoshop for backgrounds, Toonboom Harmony for animation, coloring, and scene compositing, and Premiere for final compositing and effects tweaking, and Audition for sound mixing.
Daniel: Is the composer a relative of yours? Can you talk a bit about your collaboration with your composer?
Everyone asks that but no, we're not related – Sheridan set up a meet and greet with the students from the UT Music Department and I thought Xintong (a masters student in Composition) had the most sophisticated sounding samples. She found my work agreeable. We would meet in a coffee shop and I would bring the latest work reel and she would bring the handwritten score on which she would scribble notes like 'jump into motorcycle', 'more tension', 'bigger sound', and 'start theme'.
Daniel: Can you talk about some of the story beats or characters you ended up cutting from the final film?
I went through several villains (snakes, raccoon, ink blob monsters etc.) and shortened some of the travelling and chase sequences.
Daniel: Do you plan on creating more adventures for the crime fighting duo?
Yes! Eventually. In animation, book or toy form. I'm not sure yet, but I've scribbled down more backstories and conflicts for them to endure – they exist very much outside of this short film.
Daniel: What are your aspirations as you embark on your career? Storyboarding, animation, design, or all of the above? I noticed you had the chance to do some storyboarding for Six Point Harness recently, is that correct?
I'm leaning towards storyboarding and design at the moment. I was fortunate enough to do some boarding at Six Point for coop last summer and more recently some episodes for Guru right after school.
Daniel: Where do you hope to be in five years?
Above ground? I never know how to answer this one… either story boarding for a big feature film or being heavily involved in a small project."
Source
Daniel Caylor, The Casebook of Melody Wang: http://onanimation.com/2015/08/11/the-casebook-of-melody-wang/
Official Website: http://www.mellowatt.com
Tumblr: http://mellowatt.tumblr.com/
Youtube: https://www.youtube.com/user/wangmelo/
Vimeo: https://vimeo.com/mellowatt
Instagram: https://www.instagram.com/mellowatt/
Sheridan Portfolio: http://animation.sheridanc.on.ca/portfolio/2015/wangmel/
Nips and Porkington Production Blog: http://nipsandporkington.tumblr.com/