Compiled by Skye Lobell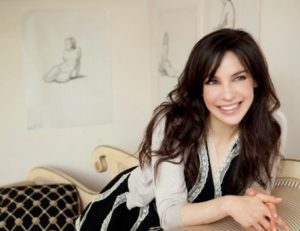 "I never intended to be so involved in artistic training, teaching and mentoring, I always wanted to be an artist and animator first, but I find myself really enjoying the teaching.  I have worked with really inspiring artists, at all artistic levels, and I love what I do so much, so if I can share it with people and help them with their artistic journey, I feel very privileged." – Samantha Youssef (Janel Drewis, Samantha Youssef Interview)
Samantha Youssef is a Canadian animator and artistic director who also has experience in visual development, character design, and storyboarding. She was born to a pair of surgeons, who expected Samantha would also choose a career in medical sciences. While she was applying for university, she met an animator in the bookstore where she used to buy Art-of books – he had studied at Sheridan College. Samantha applied there in secret and was surprised she got in; she believes she wanted to work in animation her whole life without being aware of it. When she was very young, her parents would freeze-frame animated films for her so she could draw the characters.  She always loved drawing and was especially inspired by Disney films, but had never thought of drawing as a career before.
While in college, Samantha started working at Chuck Gammage Inc., a commercial animation studio where she learned to work faster and more efficiently. She used to do around 30 hours of life drawing during those years. Apart from graduating from Sheridan's classical animation program, Samantha also studied at Gobelins Ecole de l'image in an intensive program and holds a degree in Film from Concordia University.
After working on features in Europe, Samantha was hired by Disney, where she worked on Tarzan 2 (2005) and Bambi 2 (2006). When she came back to Canada, she animated at Yowza now lives in Montreal freelancing. She also won an award at the Toronto International Film Festival for her short film La Fuga Grande.
When she was asked by several animation studios and gaming companies to give life drawing classes to their animators, she got the idea to start her own company, Studio Technique, which focuses on teaching all aspects of life drawing. Studio Technique counts companies such as Bioware and Ubisoft among its clients, and Samantha has given guest lectures and masterclasses on figure drawing and animation at prestigious art schools such as Pratt Institute and NYU's Tisch School of the Arts, as well as her former schools Sheridan College and Concordia University.
Samantha's approach to life drawing is not only influenced by her experience as an animator and academic training, but also ballet. She has studied ballet since she was three years old and continues to take regular classes. In an interview conducted by Janel Drewis, Samantha has likened dancing to animation:
"I think I was training to be an animator long before I went to Sheridan because of my ballet background.  They say that a dancers' goal is to put the soul of the character she is portraying into physical form.  I feel it is the same with animation.  Both classical ballet and animation are about characters and story telling, through a mastery and understanding of movement.  As far as basic principles, ballet also has an awareness of stretch and squash, contrast, lines, paths of action, and anticipation.  But the acting is there as well, posing, silhouette, storytelling, bringing a character performance to a visual medium.  I feel they are very much the same."
Samantha believes that in order to successfully construct a pose, one must first understand the underlying body mechanics, and the internal lines which direct the external forms.
In 2009 and 2010, Samantha was voted among Wired Magazine's "Sexiest Geeks". Although she felt flattered, she worried that it would be harmful to her professional reputation, though it hasn't been so far.
Among her many artistic influences are Sergio Pablos, Mark Henn, Glen Keane, Rudolphe Gueonoden, Stephane St. Foi,  Bolhem Bouchiba, Ken Duncan, Evelyn Hart, Svetlana Zakharova, John Singer Sargent, John Ripa, Robin Muller, Ted Ty, Werner Zimmermann, as well as her former ballet teachers. She was also deeply affected by Xiao Nan Yu's performance of Madame Butterfly.
Although Samantha enjoys all forms on animation, it's hand-drawn animation which has remained closest to her heart. She is currently doing animation and visual development work for the hand-drawn steampunk project Hullabaloo. She is also the author of a Kickstarter-funded drawing syllabus, the first part of which, Movement & Form, was published in 2015.
References:
Sandra Ní Chonaola, Show 13 Samantha Youssef: http://www.toontalkspodcast.com/?p=300
Janel Drewis, Samantha Youssef Interview: http://ladyanimators.blogspot.de/2013/04/samantha-youssef.html
Grayden Laing, Artist – Samantha Youssef: http://www.canadiananimation.com/2015/03/animator-samantha-youssef.html
Larry Vasquez, Interview with Studio Technique artistic director Samantha Youssef: http://www.ianimate.net/podcasts/item/interview-with-studio-technique-artistic-director-samantha-youssef.html
Sheridan Alumni Profiles: https://www.sheridancollege.ca/alumni/profiles/samantha-youssef.aspx
Further Reading:
Ace Connell, 79: Weekly Show: Samantha Youssef Interview: http://nintendosushi.com/79-weekly-show-samantha-youssef-interview/
Ace Connell, 108: Movement & Form Book, Star Wars & What is Normal? – Ace & Samantha Happy Hour: http://nintendosushi.com/108/
Sebastien Dussault, Interview with Samantha Youssef (Artistic Director): https://vimeo.com/174196966
Joanne Latimer and Alanna Glassman, Samantha Youssef on becoming an animator and founder of art school, Studio Technique: http://www.chatelaine.com/living/samantha-youssef-on-becoming-an-animator-and-founder-of-art-school-studio-technique/
Jerrod Maruyama, PixArt: August Feature II – Merida Takes Aim: http://pixartimes.com/2014/08/21/pixart-august-feature-ii-merida-takes-aim/
Diego Rojas, Movement & Form with Samantha Youssef: http://www.cgsociety.org/index.php/CGSFeatures/CGSFeatureSpecial/samantha_youssef
Anthony Walsh: EP 29 – Samantha Youssef – Founder and Art Director of Studio Technique, Disney Animator – Curious George, Lilo and Stitch, Bambi, Tarzan…: http://synstudio.ca/ep-29-samantha-youssef-podcast/
Live Q&A with Samantha Youssef (Animator) Speaker at CG Con | The White Conference: http://www.ustream.tv/recorded/6349507
How I Work: Samantha Youssef: https://librarianship.ca/blog/samantha-youssef/
Samantha Youssef: Founder of Studio Technique: http://thenativesociety.com/nativeadmission/2015/7/29/samantha-youssef-founder-of-studio-technique.html
The Youssef Drawing Syllabus – Movement & Form: http://conceptartworld.com/?p=39000
External Links:
Blog: http://samanthasketches.blogspot.de/
Tumblr: http://samanthasketches.tumblr.com/
Twitter: https://twitter.com/samanthasketch
Instragram: https://www.instagram.com/samanthasketches/
Society6: https://society6.com/samanthasketches
LinkedIn: https://ca.linkedin.com/in/samanthayoussef
Vimeo: https://vimeo.com/samanthayoussef
Imdb: http://www.imdb.com/name/nm2864148/
Cast and Crew Call – Samantha Youssef: http://castandcrewcall.com/samantha-youssef/
Movement & Form: http://www.theyoussefdrawingsyllabus.com/
Studio Technique Website: http://www.studio-technique.com/
Studio Technique Youtube Channel: https://www.youtube.com/channel/UCYOzH15ON7vyWFRWW9m3JtQ
Studio Technique Vimeo: https://vimeo.com/studiotechnique
Studio Technique Facebook: https://www.facebook.com/studiotechnique
Studio Technique Twitter: https://twitter.com/studiotechnique