From Animation Appreciation Tumblr: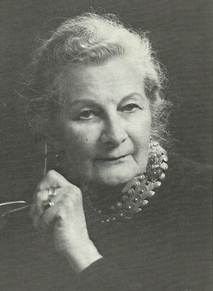 Story artist, first female story lead
Born: 1900
Died: Apr. 14th, 1974
"Sylvia Moberly-Holland was the second woman hired by Disney's story department. She was working as a sketch artist at Universal when she saw Snow White and the Seven Dwarfs, and was determined to work for Disney.
She was not only an excellent artist, but also an accomplished musician—something that would prove useful in the development of Walt's third animated feature––originally known as 'The Concert Feature'––the ambitious Fantasia. Moberly-Holland joined Disney in 1938, and contributed many story ideas that would be realized in the segment that would eventually be animated to Beethoven's 'Pastoral Symphony.'
She became Disney's first female story lead with the 'Waltz of the Flowers' fairy sequence as well, developing art, character designs, and backgrounds. This job was fraught with drama, as her male staff resented taking orders from a woman. Due to the homophobia of the period, several on her team transferred from working on the 'fairy' sequence after getting harassed one too many times.
In speeches to his employees on February 10 and 11, 1941, Walt observed that women artists could fully equal their male counterparts, and were being included in his studio animation training program.
'If a woman can do the work as well, she is worth as much as a man,' he declared. 'The girl artists have the right to expect the same chances for advancement as men, and I honestly believe they may eventually contribute something to this business that men never would or could…In the present group that are training for in-betweens there are definite prospects, and a good example is to mention the work of Ethel Kulsar and Sylvia Holland on 'The Nutcracker Suite.''
Even with a constant rotation of artists, Moberly-Holland lead her team to make one of Fantasia's most beautiful sequences. She was laid off at the end of WW2, but continued creating art until her death in 1974.
Holland was also one of the pioneering breeders of Balinese cats, first becoming acquainted with them in 1956. She raised and sold cats from Holland's Farm Cattery, working tirelessly to promote the breed."