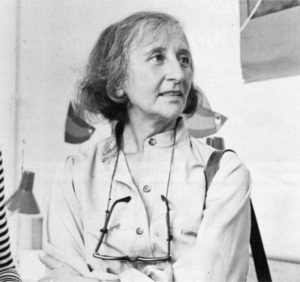 Tissa David (1921 – 2012)
(compiled by Skye Lobell)
"Tissa David endowed her characters with charm and personality, warmth and heart." – John Canemaker
Thérèse Marie "Tissa" David was born in Romania, in the city of Kolozsvár, on January 5th, 1921. She was born the second-oldest of ten (7 girls, 3 boys) to Dr. Lajos David and his wife Szaniszla. She grew up in Szeged, where her father was a professor of chemistry at the local University. When Tissa David watched Walt Disney's Snow White and the Seven Dwarfs as a teenager in 1938, she knew that that was what she wanted to do.
David earned a teaching degree (despite never wanting to become a teacher), and studied at the Academy of Beaux Arts in Budapest. A small newspaper ad, which she got from an uncle, brought her attention to a local animation studio which was looking for artists. Tissa applied for a job, got hired, and subsequently dropped out of school to become an assistant animator at Magyar Film Iroda which produced theatrical commercials with hand-drawn animation and puppetry. Thus her professional animation career began in 1942. She described the first time seeing a character she animated move onscreen as the most exciting moment of her life.
David worked during siege of Budapest in 1944. The city was bombed three times a day for a year. She survived on horse meat and boiled beans. David became a freelance animator for theatrical commercials after the war, and then the co-owner of the animation studio Mackassy and Trsi until the rise of the Communists in 1949. David and Judit Reigl, a friend from art school, escaped Hungary in March of 1950, travelling through different countries and eventually arriving in Paris. While there, she learned French and worked as a cook, maid and house-cleaner.
In September 1951, a friend introduced her to a Hungarian animation producer in Paris, Jean Image. She became the director, editor and sole animator of Bonjour Paris!, released in 1953. She is thus the second woman in animation history, (after Lotte Reiniger, director of The Adventures of Prince Achmed), to direct a full-length feature film. She was paid around 100 dollars a month for her efforts.
When Image's studio closed, Tissa became unemployed for seven months until she was hired as an assistant animator at La Come`te Studio, which was owned by Paul Grimault, and there animated American commercials.
David had no permanent permission to stay in France. Her only relatives outside of Hungary were two cousins who lived in America. It took 5 years to get her visa, by which time she had grown accustomed to life in France, and leaving her new home was hard for her. She had decided in Paris to work at UPA, since it was the only studio that interested her. In 1955 she moved to the USA, where she learned English. Through a French girl she knew working at UPA, she got an introduction at the studio. She was to test as animation assistant to Grim Natwick, one of the two supervising animators of the title character in Disney's Snow White, the very film which inspired her to become an animator. In articles and interviews, it is often described how they first met; one example can be found in the 1975 issue of Millimeter Magazine, in a Close-Up section written by John Canemaker:
"I had no sample reel. I went in once to make a sort of tryout. I was scared; I didn't speak English, so I was just waiting, waiting, and Grim came by… Grim Natwick is the history of animation and I can rave about him. He created Betty Boop and animated the character of Snow White all the way through. UPA had an awful lot of work and they needed an assistant to Grim."
At that initial meeting, Natwick boomed, "Now, you know what animation is!" Tissa quietly answered, "Animation is—animation." Natwick laughed, "You can't argue with that!" and thus began a professional partnership that lasted twelve years.
She was hired in February 1956 by UPA in New York as assistant to Grim Natwick. While their professional relationship lasted twelve years, their personal one would last until Natwick's death in 1990. Grim and Tissa free-lanced together after UPA closed in 1958. David described him as a generous man who did not keep his knowledge for himself as other animators had done, and always contended that she learned "absolutely everything" about animation from Grim. Natwick himself claimed that he was able to work for another decade because of her.
When Natwick retired in 1967 to paint, David was unable to find work as an animator in the male-dominated animation field. This changed when in 1970, Tissa David was hired by John Hubley, for whom she animated commercials, shorts and the feature film Everybody Rides the Carousel (1975). In the 70s, 80s and 90s, she worked with Richard Williams, R.O. Blechman's Ink Tank Studio and Michael Sporn Animation.
Tissa was the lead animator of Raggedy Ann and Raggedy Andy for the 1977 animated feature film Raggedy Ann and Andy: A Musical Adventure, directed by Richard Williams. Her drawings of the main characters were made into Work Sheets and used as a guide for the other artists working on the production. It was later the basis for the final Model Sheets, drawn by Dick Williams.
A self-described loner, Tissa David lived by herself in a plant-filled one-bedroom apartment, which is said to have smelled of baked apples and spices, from 1956 until her death in 2012. Animation historian John Canemaker devoted a chapter to her in his first book, The Animated Raggedy Ann and Andy, in which he described what her apartment looked like (p. 157): "The apartment in an old brownstone contains bookshelves filled from floor to ceiling with art books and European recordings; the walls boast colorful dishes from Tissa's native Hungary and paintings by old friends." During the making of the picture, the smaller back room of her home, which usually functioned as her bedroom, was turned into her workplace:
The room appears to be in some kind of organized chaos, and David is surrounded by an explosion of paper. Hundreds of drawings are piled on several small shelves and an improvised table over her bed (she is sleeping on a coach in the living room for the duration). Model charts of the Johnny Gruelle illustrations of Raggedy Ann and blow-ups of drawings from the film are taped to the walls, scene folders overflowing with animation sketches are lying on whatever space is left, and everywhere there are caricatures of herself and her co-workers – tacked to the walls, taped to each other, and pinned on the drapes that keep this room perpetually in subdued light.
From 1983 to 1985, Tissa directed a Dutch live-action/animation TV production of Mendelssohn's A Midsummer Night's Dream, in which she did all the character animation by herself. During production, she spent half of the time in the Netherlands and the other half animating in her New York apartment, from which she shipped her animation drawings to Europe where her collaborators Kalman Kozelka, his wife Ida Kozelka-Mocsary, and Richard Fehsl were working. Kozelka xeroxed and shot the film as well as doing effects, Ida designed the character coloring and painted all the cels, and Fehsl painted and animated the backgrounds. The story is credited to all four artists.
In 1978, she began working for R.O. Blechman's Ink Tank Studio, where she animated the Emmy-Award winning The Soldier's Tale (1984). In the late 80s and early 90s, Tissa taught a free animation class, sponsored by Blechman's studio, which was open to anyone who wanted to attend and held after hours. When giving animation advice, she would always stress the importance of exposure sheets. She never animated without a soundtrack, and when a character was mute, she would listen to music instead (Tissa liked Classical music especially). One's characters should come from a real place within oneself. Her animation drawings were limited to the most essential storytelling drawings to create the most effective performance.
While working at the Hubley studio, Tissa met Michael Sporn. He came to her attention because of his "dreadfully bad in-betweens", and became a mentor to him. She later collaborated with Sporn on many of his studio's half-hour animations, like The Marzipan Pig (1990) and Ira Sleeps Over (1991). Michael Sporn visited and talked with Tissa several times a week in the month before her passing.
Throughout her life, Tissa would often travel to Europe to see her family and animate for small studios there. She even owned a country house in the South of France. Tissa David was presented with the Winsor McCay Award at the 1988 Annie Awards. She was a very active and enthusiastic member of ASIFA-East.
Tissa David died of a brain tumor on August 21st, 2012, at the age of 91 in her New York apartment. Tissa regarded animation as the most complex art form. If one wished to be animator, they had to be wholeheartedly devoted to their craft. Animation was her life; it was all she had ever wanted to do.
Filmography:
2013 Poe (Feature) – layout artist
2005 The Man Who Walked Between the Towers (Short) – animator
1999 Between the Lions (TV Series) – animator
1999 Life (Short) – animator
1995 The Land of the Four Winds (Video short) – animator, layout artist
1993 The Princess and the Cobbler – animator (uncredited)
1992 Nightingale (TV Movie) – animator
1991 Ira Sleeps Over (TV Movie) – layout artist, storyboard artist
1991 The Emperor's New Clothes (TV Short) – animator
1990 The Marzipan Pig (TV Movie) – animator, storyboard artist
1990 The Red Shoes (TV Short) – animator, storyboard artist
1989 The Story of the Dancing Frog (TV Short) – animator
1986 A Midsummer Night's Dream (TV Movie) – director, animator
1986 The Cosmic Eye – animator
1984 The Soldier's Tale – animator
1977 Simple Gifts (TV Movie) – animator and layout artist – segment "The Great Frost"
1977 A Doonesbury Special (Short) – animator
1977 Raggedy Ann & Andy: A Musical Adventure – lead animator on Ann and Andy
1976 People, People, People (Short) – animator
1976 Noah's Animals (TV Movie) – animator
1975 Everybody Rides the Carousel – animator
1974 Cockaboody (Short) – animator
1974 Upkeep – animator
1972 Dig (Short) – animator
1971 Eggs (Short) – animator
1969 Of Men and Demons (Short) – animator
1968 Zuckerkandl! (Short) – animator
1953 Bonjour Paris! (Movie) – director, principal animator
References:
John Canemaker, The Animated Raggedy Ann and Andy, Bobbs-Merrill Publishing, 1977
John Canemaker, Her Animating Spirit, The Wall Street Journal (Published August 27th, 2012): http://www.wsj.com/articles/SB10000872396390444812704577607660516039328
Tissa David at NYU April 26, 2006: https://www.youtube.com/watch?v=YRLbjWFmHik
Labor Day: Grim Writes About Tissa, for Cartoonist Profiles Magazine 1977: http://www.michaelspornanimation.com/splog/?p=3128
Tissa's Midsummer: http://www.michaelspornanimation.com/splog/?p=1479
Midsummer Nights: http://www.michaelspornanimation.com/splog/?p=833
Tissa David Bio: http://www.michaelspornanimation.com/SourceFiles/Bios/TissaDavid.html
Tissa David 1921-2012: http://www.michaelspornanimation.com/splog/?p=3120
Master animator Tissa David dies at 91: http://variety.com/2012/film/news/master-animator-tissa-david-dies-at-91-1118058316/
Tissa's Class: http://www.michaelspornanimation.com/splog/?p=3158
Speeches: http://www.michaelspornanimation.com/splog/?p=3193
Interview with Director Michael Sporn: http://www.traditionalanimation.com/interviews/interview-with-director-michael-sporn/
Filmography: http://www.imdb.com/name/nm0203077/
Save
Save
Save
Save
Save